Love these!! I was already in love with my Bamboozles and really, these aren't much different at all...except they're blue which I think is pretty cute
. The booster isn't attached like in a Bamboozles and is slightly shorter, wider & thicker (darn...should have taken a pic of it seperately). I can position it easily where I need it...at the front. You can see I still have plenty of rise left on 17m Gus (in a snappi-able Size Two).
Anyhoo...love bamboo...soft & trim. I do find it slow to dry so you'd need a good stash if these were all you had. If I was using it overnight I'd need to boost it with some hemp...but man that would make a nice trim night nappy!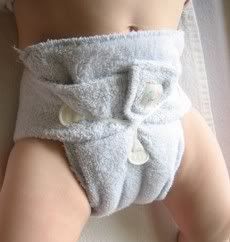 Sharon