Yes, finally finished and soon to be distributed!
BIG THANK YOU to everyone who has contributed.
Every antenatal class provider in Christchurch (that we know of) will receive one of these lovely information kits.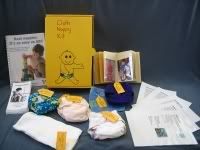 Each kit contains a sample of each style of nappy, all non branded. Information sheets (laminated) for handing around the class, a photo album of cute kids in nappies and a more detailed information booklet for the educator. Plus TNN pamphlets
All contain in a really cute box!