Here's a reference thread for Purewool - which we co-op here. Purewool dyes beautiful, exquisitely soft, worsted weight (= NZ 10 ply) merino. However, their website pics are often a little misleading in terms of colours - and because they hand-dye, their colourways also tend to differ slightly from dyelot to dyelot. This post should help you a) see 'real life' pictures of Purewool colourways, and b) enjoy looking at Purewool knit up!
NEXT CO-OP: late September 2010
Purewool website:
http://www.100purewool.com
Old Purewool colourways (pics from their website):
http://docs.google.com/fileview?id=0B7I ... YjA3&hl=en
NOTE
: doing a 'project' or a 'stash' search on Ravelry is also a great way to see variations of colourways. Use "100purewool" + the colourway as the search terms.
Colourways as we've received them:
Mysterious, Coral, Kabuki, Cosmo, Katja
top row: Eaka, Forest of Pines
bottom row: Adonis + trim, Winter, Storm
Nostalgic, Inda Jani + trim
June, Fiorella + trim, Charming Sea
Sky blue & green, Castillos, Mariscala, Barrancas, Candela
Trinidad, Parish, Takutsi, Niyoc, Pink-Red
Itzen + trim, Storm
Chapicuy + trim, Yves, Columbia, Azul Degrade
Wood, Hot Pink & Black, Salinas
Izcua, Lust
Haiku, Amatista, Aksanjan
Portezuelo + trim, Crema & chocolate
top row: Dayana, Blue Sea, Hardly, Aigua
bottom row: Gentleman + trim, Cuadro, Blue Hot, Corina
top row: Moypa, Fantasia + trim, Happy Rose, Clay
bottom row: Aigua, Wind, Green Grass, Umbria, Blue Marvellous
top row: Blue V, Meadow, Paulina
bottom row: Sarandi + trim, Yanez
top row: Tranqueras + trim
bottom row: Chocolate, Beautiful
Cotton Candy, Blue trim for Winter Joy
Romance, Quebracho, Grape, Lane + trim
Sawa, Wind, Prussianne, Ashen
Trim for Valdez, Valdez, Purple trim for Barcelo, Barcelo, Grey trim for Barcelo, Umbria, Red Intense
top row
: fuschia, smooth orange, pink to match hot pink, orange to match reign, red to match alcibia, sky blue/green + trims
middle row
: ocre, umbria x 3, campos de maiz, prussiane, undyed lace x 1, undyed fingering x 2
bottom row
: undyed x 2, ukasi, crema & chocolate, poison, cipres, amatista, aksanjan
On the left
:
top row
: 2 x Abir, 1 x trim;
middle row
: crema & chocolate, undyed, santino trim, santino;
bottom row
: rosa
On the right
:
top row
: 2 x wind laceweight, marmaraja, purpura;
middle row
: 2 x amatista laceweight, brown;
bottom row
: green sausage, happy rose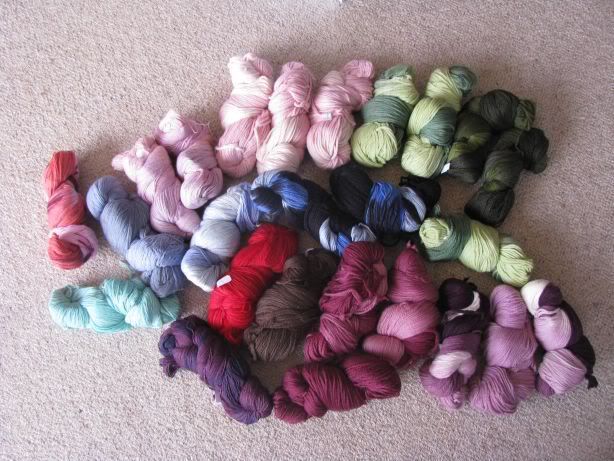 the orangey-pinky one on far left is multicolored special
the one beneath that is aqua
the light blue ones are mares and maldonado
the light pink ones are melancolia (2) and baby rose (3)
the light two tone greens are forest of pines (3)
the dark two tone greens are aksanjan (2)
the brilliant/dark blues are fresh blue (2)
the red is fire
the brown is chocolate
the lilac/purply ones + trim are santino (3)
the burgundy ones + trim are cuadro (3)
the dark purple one is aurora